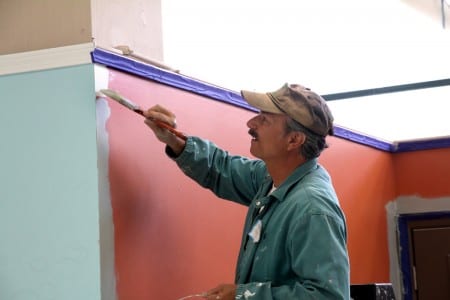 Rebuilding Together, an organization providing critical repairs, accessibility modifications and energy efficient upgrades to low-income homes and community centers, participated in Annual Rebuilding Day in the northern suburbs on April 26.
Teska Associates Principal Planner, Kon Savoy, donated his Saturday birthday to oversee rehabilitation of a local community day center for persons with autism.
Alongside fellow members of the First Presbyterian Church, Kon painted 12 rooms and replaced broken doors and ceiling tiles for the center owned by Rimland in Evanston.
The Chapter also helped seven homeowners including a single mom, one family and several seniors with their home repairs.
Rebuilding Together is a national organization that has provided extensive home rehabilitation for almost 25 years. The network of 187 affiliated non-profits brings together 100,000 volunteers and completes nearly 10,000 annual projects. Home by Home, Block by Block, entire communities are transformed. Visit www.rebuildingtogether.org for more information.