Congrats Lee Brown, Wicker Park Bucktown, and Dubuque, Iowa!
APA-IL 2017 Distinguished Service Award
Lee M. Brown, FAICP
APA-IL 2017 Outreach Award
Wicker Park Bucktown SSA #33 Master Plan
APA-IA 2017 Outreach Award
Imagine Dubuque Comprehensive Plan
---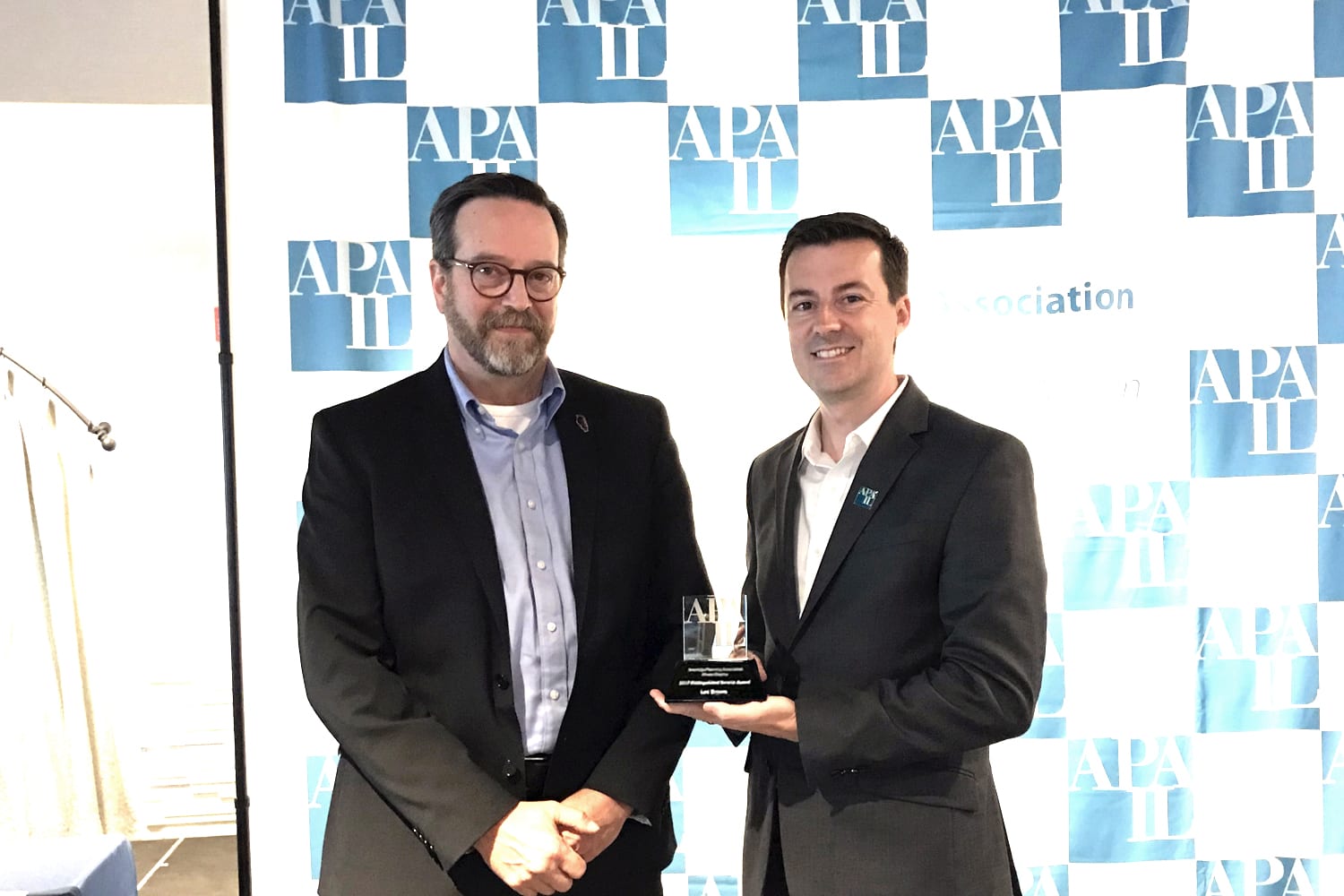 Distinguished Service Award: Lee Brown, FAICP
Photo/Article compliments of Illinois APA
Lee's career is noteworthy not only for his professional practices, but for the depth and breadth of his service to the field of planning. Lee tirelessly and quietly works behind the scenes to improve the planning profession at the local and national levels. Lee has served as APA-IL Chapter Treasurer and President. Local Host Committee member the last three times the National APA Conference was in Chicago and as a Co-chair in 2013.  Nationally, Lee's leadership was significant in establishing, maintaining, and assuring success of APA's Community Planning Action Team (CPAT) program. Lee was elected as the Region 4 member of the National AICP Commission and then was elected national President of the Commission. In that capacity, he also served as a member of the National APA Board of Directors.
Among APA National leadership, Lee is known as a thoughtful, soft-spoken leader who understands well the professional and ethical foundation of planning. He has been recognized nationally for his efforts, and also was elected to the AICP College of Fellows in 2006. He is an active member of that group nationally and in Illinois.​
But that is just the tip of the iceberg– the efforts of one person. Lee's commitment to service extends to his entire firm. As President of Teska Associates, he encourages his team to be active members of APA and to get involved in APA-IL. ​This sustained and broad leadership in Illinois and nationally, commitment to service, strong support of active APA involvement by his Teska colleagues, and his humble nature are what compelled us to honor Lee this year.
---
Illinois APA Outreach Award:  Wicker Park Bucktown SSA #33 Master Plan
Teska Associates and Sam Schwartz Consultants were retained by Wicker Park Bucktown SSA #33 to help guide development, preserve the rich historical resources and expand small and local businesses in this thriving cultural, entertainment and residential district of Chicago.
The diversity of residents, businesses, community organizations, arts organizations, and volunteer groups meant an extensive outreach process.   Due to the fact that many plans had been completed in the past, both traditional and new ways of community engagement were used.
Traditional tools included focus groups, stakeholder interviews and community meetings.  New tools included broad social media engagement, online voting for images that would be highlighted in the plan and quick polls that would grab people's attention, and hands-on activities at meetings to let residents and businesses design their street using 3D cut-outs for traffic lanes, parking and bike lanes.
---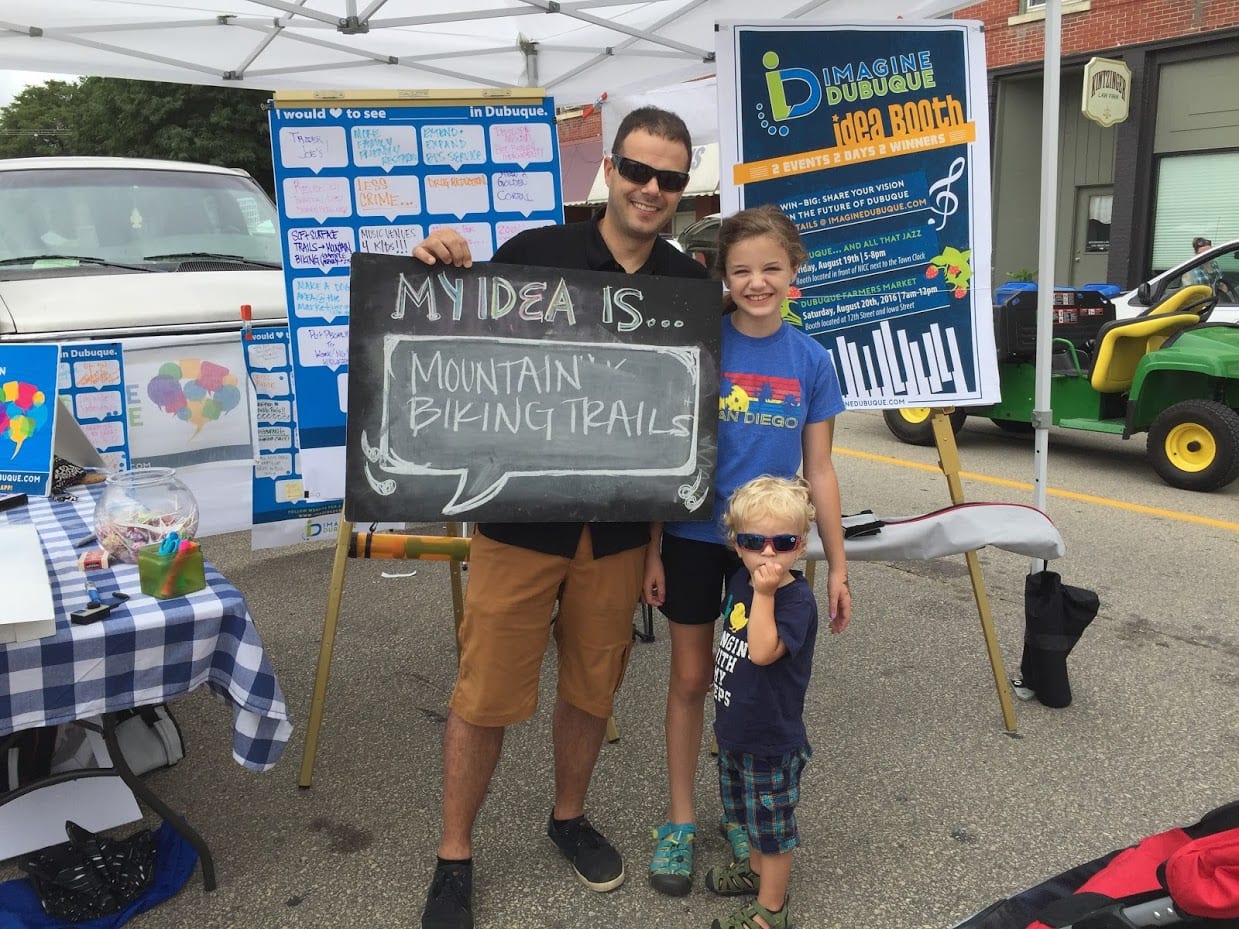 Iowa APA Outreach Award: Imagine Dubuque Comprehensive Plan: A Call to Action
The Imagine Dubuque Community Engagement Plan was the public outreach campaign for the City of Dubuque's new Comprehensive Plan. The City has a long tradition of community planning and outreach, but past efforts fell short of goals for diverse engagement. It was imperative to City leadership and planners that the process of developing the new Comprehensive Plan be inclusive and representative of the community. Imagine Dubuque included broad community outreach and made extensive use of traditional methods and technology to expand public participation in planning. Imagine Dubuque produced over 12,500 ideas from all sectors of Dubuque.
Print and online promotion included distribution of project cards, idea postcards and posters in local businesses and restaurants. Educational pop-up banners, mobile idea boards, and idea boxes were displayed at area businesses, institutions, and events, including library, Farmers Market, and schools. Transit banners with details about the project website and mobile app were installed on Jule buses. The project website and app integrated 'opt-in' emails and push notifications ensuring subscribers would receive project news. Interactive tools were built into both interfaces that allowed users to take quick polls, share ideas, comments, project feedback, and even upload photos.