Teska was excited to see streetscape branding installed along the Great Western Trail Bridge in Downtown Lombard, a key recommendation of the branding and visual identity chapter of the Village's Downtown Revitalization Plan.
These implementation efforts build upon previous installation actions including new streetscape signage and pedestrian crosswalks that were installed in 2012.
The implementation plan recommended specific actions to obtain short and long-term results – branding being one of those key, short-term items.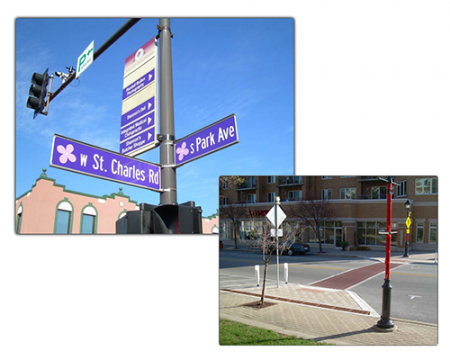 The Plan, which won the 2011 American Planning Association-Illinois (APA-IL) Award for a Strategic Plan, includes development concept plans for seven sites within the downtown core as well as six sites along East St. Charles Road.
Other items addressed include strategies for streetscape enhancements, façade enhancements, visual identity and signage, branding and transportation enhancements.
The Plan builds upon past planning efforts, balancing a variety of planning principles to meet a common end.  Funding for the Plan was obtained through a Community Planning Grant from the Regional Transportation Authority.
Click here to view/download a copy of the plan!
——————–
The Plan was prepared by the Consultant Team of:
Teska Associates, Inc. | Fish Transportation Group | Gewalt Hamilton Associates, Inc. | wohltgroup | Hitchcock Design Group | Business Districts, Inc. | Richard Hunt Studio