You heard right! Timothy O'Toole's Pub is coming to downtown Lake Villa.
This will be the fourth location for this family-owned pub with other locations in Chicago, Gurnee and Libertyville. Teska was proud to work with the Village to facilitate a Downtown Plan, establish a Tax Increment Finance District and Business District, and work with Business Districts Inc. to market the downtown. O'Toole's will be located at the corner of Cedar Avenue and Grand Avenue at the gateway to the Downtown. With available lakefront property available for mixed-use development within a five-minute walk to the Lake Villa Metra Station, we expect more good things to happen. The village is in negotiations with two other businesses; work to revitalize the area and attract new development will continue into 2018. Read more via the news story below.
---
In the News:
Planned pub opening part of Lake Villa revitalization
Chicago Tribune Article | December 17, 2017
Click to read full article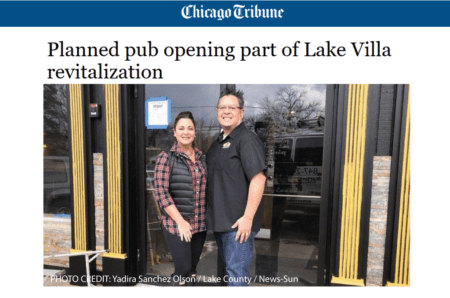 The move to welcome Timothy O'Toole's to Lake Villa is part of the village's revitalization plan to bring in new businesses, said Village Administrator Karl Warwick. Last year, the village began a tax increment financing district that is helping officials give the downtown area, known as "The Lake Villa Triangle," a face-lift. The triangle is bounded by Milwaukee, Grand and Cedar avenues. Warwick said two Lake County grants for $200,000 allowed for the installation of decorative street lighting, some landscaping and new parking spaces along Cedar Avenue.
"Lake Villa is in need of high-quality business, and Timothy O'Toole's has very successful business owners that will make a nice addition to the area," Warwick said.